HUG 20300
MA "X" HEAD (INDY 360X HEAD)
MAGNUM INT BOLT PATTERN.PEDSTL ROCKERS. MAG V/C PATTERN. DUAL ACCSRY


This part number & price is for a single bare head. It does not include valves or springs.
This is a powerful cast iron replacement head for Small Block Magnum applications.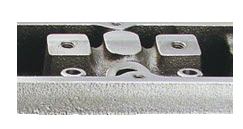 This head is designed for use with the Magnum intake manifold, rocker arms, and valve covers. The MA-X head features a Magnum pedestal that is large enough to enable 7/16"-14 drilling and tapping for use with stud-mounted rocker arms and guide plates.This head is designed for use with 8mm intake (1.92" diameter) and exhaust valves (1.625" diameter).

A cast iron replacement, the 360 X Head series is designed for Magnum applications (318-360-415cid). With a host of additions and improvements over the factory originals, these heads are an easy way to get 400 to 550 horsepower out of your Mopar-powered street machineFeatures of these impressive heads include 179cc intake and 67cc exhaust runners, a 62cc combustion chamber, multi-angle intake and hardened,radiused exhaust valve seats, an improved valve guide design and a highly efficient water jacket to prevent engine hot spots. The 360 X Cylinder Heads also come with an extra thick deck surface to enable angle milling for compression.

When using these heads with a flat tappet cam it will require that the pushrod tunnels be clearanced. We can do this for an additional charge. If you need this done please add it to your cart below in "Related Parts".
To view the flow chart for this head click the button below.



Heads tested on Hughes Engines bench with no work & Corrected @ 28"
| | | |
| --- | --- | --- |
| Lift | Intake Average CFM | Exhaust Average CFM |
| .100 | 66 | |
| .200 | 116 | 91 |
| .300 | 177 | 138 |
| .350 | 202 | 155 |
| .400 | 224 | 167 |
| .450 | 239 | 171 |
| .500 | 252 | 174 |
| .550 | 262 | 176 |
| .600 | 263 | 177 |
| .650 | 263 | 179 |
| .700 | 246 | 179 |
Features & Benefits:
• Performance heads available for bothSmall Block Chrysler LA & Magnum engine applications
• 179cc intake/67cc exhaust runners & 62cc combustion chambers
• Hardened multi-angle intake (1.92" dia.) & radiused exhaust (1.625" dia.) valve seats
• Dual pattern exhaust bolts (standard & W2) & improved valve guide design
• Highly efficient water jacket with extra thick deck faces
Related Parts:
HUG 1110VSK-M Installed Spring Kit

HUG 1129VSK-M Installed Spring Kit (recommended for Super Charger applications)

HUG 1120VSK-M Installed Beehive Spring Kit
LAB AUTOHEAD953 : Clearance Pushrod tunnels for flat tappet cams



DUAL DRILL HEAD FOR "LA" INTAKE BOLT PATTERN




1110 Spring Kit Installed : Includes Springs, Locks, Retainers, Seal

1120 Spring Kit Installed 5/16" Vlv : Springs, Seals, Locks And Retainers Inst

ARP 144-3604 Bolts, Head Set Iron Magnum: ARP Brand Hex Head, Magnum 318 & 360 Eng

7183S Bolts, Head Set Iron Magnum:Stock OEM Style Hex Hd, Mag 318 & 360 Eng

Fel Pro 9898pt .054" X 4.172" Bore : Felpro Standard Gasket

HS9898PT2 Gasket, Head Set Magnum V8 : '98-'03 5.2 & 5.9 Magnums Fel Pro Kit

1550 Rocker Arm Kit Stainless Steel

1555 Shaft Mounted Rocker Arm Kit