HUG 4676
MAGNUM EQ IRON HEADS W/ 2.02" INT VALVES
MAGNUM STYLE INTAKE PATTERN ,62CC COMBUSTION CHAMBER W/ 2.02" INT, 1.6
This is a pair of heads with one-piece stainless, over-size intake valves(2.02") and stock size, stainless exhaust valves. Includes bronze guide liners and our proprietary racing valve job along with blending of the valves into the chamber which increases flow. It does not include the spring kit (springs, locks, retainers & seals). Spring kits can be ordered below. Designed to use stock Magnum pedestal or stud mount rocker arms. Requires use of Magnum style intake manifold.

A pair of our Iron Ram cylinder heads with the Magnum intake bolt pattern. These heads are brand new castings with new bronze valve guides. All of our assembled EQ (Iron Ram) heads now have bronze guide liners to prevent the common problem of valves sticking in the guides. BEWARE of purchasing these heads from anywhere that does not install the bronze guides! Valves are new one-piece stainless steel valves (2.02"" intakes and 1.620" exhaust).
These are replacement heads for your stock Magnum truck heads and will accept all of the stock valvetrain and accessories. Our Iron Ram heads feature pressed-in hardened seats and modern port design to enhance airflow.

This part number DOES NOT include a spring kit. You can add the appropriate spring kit at the bottom of the page.
There is a great article on these heads in our tech section.

When using these heads with a flat tappet cam it will require that the pushrod tunnels be clearanced. We can do this for an additional charge. If you need this done please add it to your cart below in "Related Parts".
This head can be ordered with dual intake bolt patterns ("LA" & Magnum) by adding HUG 1196 to your order.
Flow chart (shown in cfm)
INTAKE
EXHAUST
Valve Lift
OEM Magnum
1.92"
EQ Iron Ram 1.92"
EQ Iron Ram 2.02"
INDY LA-X 2.02"
OEM 1969 "X"
2.02"
OEM Magnum 1.62
EQ Iron Ram
INDY LA-X
OEM 1969
"X"
.100
51
63
73
59
65
49
51
54
51
.200
121
128
136
109
108
106
104
105
103
.300
182
183
192
168
171
147
148
139
131
.400
208
216
231
212
204
169
173
166
140
.500
209
246
251
236
212
174
180
181
141
Related Parts:
HUG 1110VSK-M Installed Spring Kit

HUG 1129VSK-M Installed Spring Kit (recommended for Super Charger applications)

HUG 1120VSK-M Installed Beehive Spring Kit

LAB AUTOHEAD953 : Clearance Pushrod tunnels for flat tappet cams



DUAL DRILL HEAD FOR "LA" INTAKE BOLT PATTERN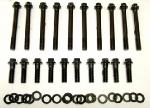 ARP 144-3604 ARP Head Bolt Kit

7183S Stock style head bolt kit

1540 JoMar Rocker Arm Stud Girdle Kit