HUG 20301B
LA STYLE INDY "X" HEADS W/ 1.92" STNLSS
LA STYLE INTAKE PATTERN W/ 1.92" INT, 1.620" EXH (NO SPRINGS)
THESE HEADS ARE CURRENTLY UNAVAILABLE. NO KNOWN ETA. CHECK BACK HERE FOR UPDATES.
This is a pair of INDY LA-X heads with one piece stainless, stock size (1.92 / 1.620) valves. It does not include the spring kit (springs, locks, retainers & seals). Spring kits can be ordered below. Designed to use shaft mount "LA" style rocker arms. Requires use of "LA" style intake manifold.

This is a PAIR of brand new head castings. These come with new one-piece stainless steel valves (1.920" intakes and 1.620" exhaust). These are replacement heads and will accept all of the stock LA style valvetrain and accessories.
Features pressed-in hardened seats and bronze guide liners. All of our assembled INDY "X" heads now have bronze guide liners to prevent the common problem of valves sticking in the guides. BEWARE of purchasing these heads from anywhere that does not install the bronze guides!
This is a powerful cast iron replacement head for Small Block LA applications.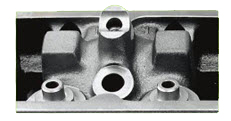 This LA-X head uses the standard "LA" intake manifold and shaft style rocker system. It is drilled for the proper valve cover and gasket and contains both Chrysler LA and Magnum accessory holes on both ends of the head. This head is designed for use with 8mm intake (1.92" diameter) and exhaust valves (1.625" diameter).

A cast iron replacement, the INDY 360 LA-X Head series is designed for both Small Block LA applications (318-360-415cid). With a host of additions and improvements over the factory originals, these heads are an easy way to get 400 to 550 horsepower out of your Mopar-powered street machine. Features of these impressive heads include 179cc intake and 67cc exhaust runners, a 62cc combustion chamber, multi-angle intake and hardened radiused exhaust valve seats, an improved valve guide design and a highly efficient water jacket to prevent engine hot spots. The 360 X Cylinder Heads also come with an extra thick deck surface to enable angle milling for compression.
NOTE: To use these heads on a magnum block, the block must have the L.A. shaft oil passages. These are located between the #1 and #3 cylinders and between the #2 & #4 cylinders.

Related Parts:
HUG 1110VSK-M Installed Spring Kit

HUG 1129VSK-M Installed Spring Kit

HUG 1120VSK-M Installed Beehive Spring Kit

DUAL DRILL HEAD FOR "LA" INTAKE BOLT PATTERN

7183 Bolts, Head Set Iron Magnum: ARP Brand Hex Head, Magnum 318 & 360 Eng

7183S Bolts, Head Set Iron Magnum:Stock OEM Style Hex Hd, Mag 318 & 360 Eng

ARP 144-4203: ARP Brand Stud Kit



ARP 144-3604 Bolts, Head Set Iron Magnum: ARP Brand Hex Head, Magnum 318 & 360 Eng



3106 Fel Pro 9898pt .054" X 4.172" Bore : Felpro Standard Gasket

FEL 1008 Fel Pro Racing Gasket .039" x 4.180"

HS9898PT2 Gasket, Head Set Magnum V8 : '98-'03 5.2 & 5.9 Magnums Fel Pro Kit

7324 Stud Kit, Hex Hd Magnum: ARP Brand Alum & Iron Heads

HUG 15023 1.5:1 Rocker Arm Kit w/Shafts

HUG 15063 1.6:1 Rocker Arm Kit w/Shafts

7440 Small Block Rocker Hold Down Stud Kit