MOP P4532621
*** DISCONTINUED ***
CAST WITH RAISED FINS FITS MAGNUM HEAD 10 BOLTS PER VALVE COVER. WILL


This part number is for 1 (Single) valve cover. For a set, you must order 2.
Mopar Breather - MOP P4529880
Mopar Filler Cap - MOP P2946052
RPC Breather - RPC R9617
RPC Filler Cap - RPC R4804


MRE 5249642 Grommets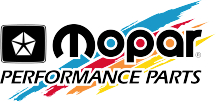 The Black Mopar Performance cast aluminum valve cover has that bold and classic look, with the Mopar Performance logo. Its ribbed, cast design is more rigid than standard aluminum covers, for better gasket sealing and durability.


Magnum Valve Cover Bolt Kit - HUG 7458M

Magnum Valve Cover Bolt Kit (Black) - HUG 7458MB