HUG 15253
PREMIUM 1.6 RATIO VICTOR HEAD ROCKER KIT
INCLUDES ROCKER ARMS, SPACERS AND GROOVED SHAFTS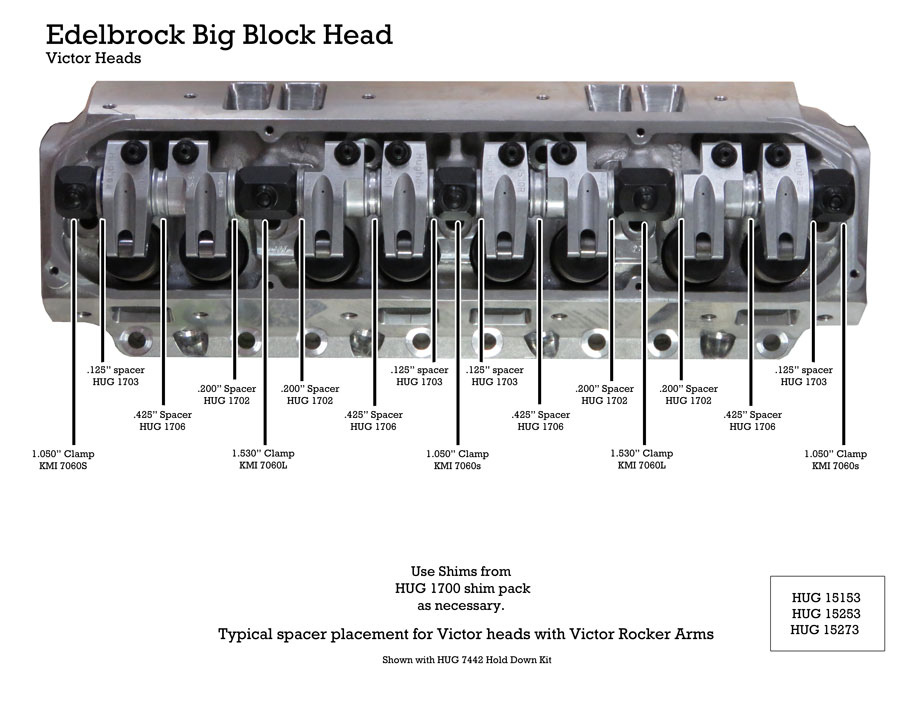 Includes Rocker Arms, Spacers And Chamfered Shafts
These 1.6 ratio rocker arms are designed exclusively to give you correct geometry with the Edelbrock BB Victor cylinder heads. The exhaust are standard offset and the intakes have a .600" offset. Any less offset and the pushrod is too close to the wall. Any more offset and the pushrod angle becomes an issue. This kit includes all 16 rockers, all of the billet machined spacers, the fine adjustment shims and our chamfered shafts. These premium rocker arms are also available with cryogenic treament. For additional information about cryogenic treatment refer to our
tech article.
Click on this part number to order these in the cryo treated version
HUG 15253C

Our big block rockers will clear 1.625" diameter valve springs without cutting or grinding. (When the geometry is correct)

If you will be running spring pressures of close to 600# or more, we strongly suggest having your components cryogenically treated.
Why not use a set of Stainless Steel Rockers? Better read this first.
CLICK HERE
Customer Testimonials:
"Just yesterday I completed setting up a set of your rockers on my engine. Man these things are beautiful! At 1,000 RPM on an electric drill the oiling to the pushrod and rocker tip was unreal. These are the greatest innovation to Mopar valve train that I have seen in the last 20 years. Plus, they are at a price the average person can afford. Keep up the good work! " Hull Motorsports Ellenwood, GA
"Just wanted to say thank you for a great rocker set-up. After a failure "3rd dyno pull" with the pretty gold ones, I upgraded to your's and could not be more pleased. These really hold their adjustment and its a kick to see the reaction when you say they are Cryogenically treated.
They sure help with the consistency--made it "under dog car" to Pinks final 16 in Kent Wa"
Thanks , M. Newman Olympia, WA
"I have a set of your 1.5 rockers (non-cryogenic) on a set of victor heads on a 505ci stroker with a .682" lift solid roller cam. Just wanted you to know that they survived 2 seasons of racing with the incorrect valve springs that were installed on my heads by the machine shop I used. Spring pressures were 360# on the seat and 830# open when they should have been closer to 250# and 600#. I have since changed springs and re-used the rockers." K.N. Texas

Related Parts:
7442 Rocker Hold Down Stud Kit

1710 Rocker Stand Shim Kit