EDE 7193
INTAKE, PERFORMER RPM 413-440
EXCELLENT LOW-RPM TORQUE AND OUTSTANDING HIGH-RPM HP. (1500-6500 RPM)
PERFORMER RPM 440 (1500-6500 rpm)
Designed for 413-426-440 c.i.d. Chrysler V8s. Dual-plane design results in excellent low-rpm torque and outstanding high-rpm hp. For high-performance street/strip applications. Will not fit 1962-64 Max Wedge heads.

This intake works best with the HEH2832BL, HEH3237BL, HEH3742BL, HEH4246BL and HEH4650BL hydraulic camshafts. Good solid camshaft choices are the HTL3742BS, HTL4248BS, HTL4652BS and HTL4852BS.
Important... A/B Measurements
CHECKING FOR HOOD CLEARANCE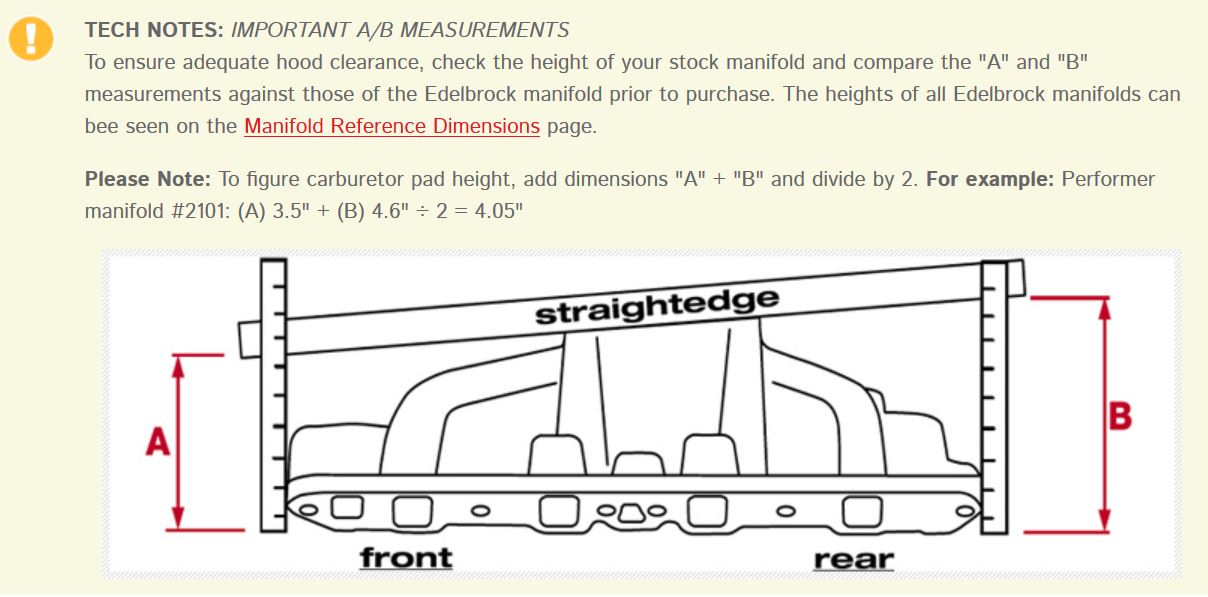 To ensure adequate hood clearance, check the height of your stock manifold and compare the "A" and "B" measurements against those of the Edelbrock manifold prior to purchase. The heights of all Edelbrock manifolds are listed under "Installation Notes" for each model in the intake manifold section of this catalog.

Please Note: To figure carburetor pad height, add dimensions "A" "B" and divide by 2.

This intake Manifold height: A-4.90", B-5.80" see A/B Measurements in above photo.. Port exit dimensions: 1.13" x 2.09". Manifold measure 8.75" across block.
A stock big block intake manifold has an "A" measurment of approximately 3.33" .
Related Parts:
ARE AR002 THROTTLE BRACKET KIT 440

ARE AR008 BB THRTTL RETURN BRKT DUAL SPRNGS