Oval Track, Road Racers, Mud Drag, Mud Boggers, Truck & Tractor Pullers
We have many specific parts and operations available for Mopar's competing in these specialty areas. Especially the very limited classes with lift, vacuum & cylinder pressure rules. Here are just a few of things we offer.
Heads: We have special valve jobs for "stock" heads and offer custom valve sizes where necessary. For the no porting rules we offer "Stealth" porting that is very difficult to detect. We've not been caught yet! This provides increased air and wet flow pattern, especially at low lifts for the limited lift rule divisions.
Intake Manifolds: When Mopars are forced by the "Chevy rules" to run an Edelbrock performance or Wieand stealth intake manifold, they have an automatic restriction built in to the manifold that Chevy's do not have. The ports in these manifolds are not 360 sized, they are smaller 318 size. We can correct the obvious oversight of the rules committee (which restores 14-18 hp) that way the manifolds are equal. And they look unmolested. "They aren't molested, they're corrected."
Camshafts:
These separate the men from the Chevy's boys. We have custom solid and hydraulic cams that are specifically designed for maximum power within the limits of lift, vacuum and cylinder pressure rules, if any. Aluminum or cast iron intakes, cast iron or header exhaust, 2bbl or 4 bbl, track type or size. They all make a difference. Don't get sold a Chevy cam! get "Real" Chrysler Specialy competition cams from Hughes engines.
Lifters: Lightweight tool steel solids with lobe oiling or fast bleed down hydraulics for vacuum and cylinder pressure rules. We also have tight hydraulic lifters that act more like solid lifters.
Pushrods: We can supply custom Smith Brothers pushrods made in-house or adjustable pushrods for those who have to run "stock" OEM rockers.
Rocker Arms
: We have our own custom made premium aluminum or stainless steel roller rockers. Ratios are corrected for small block Mopar pushrod angle and give true ratios. Our rocker & shaft system is custom designed to use the oil more efficiently than any other system avaialble.
Blocks: Blocks are custom blueprinted for each specific application. Bored and honed with our deck plates. Line honing, square decking and oil system mods that will not require high volume oil pump. Lifter bore sleeving or even "stealth" sleeving. We are talking about blueprinting the lifter bores.
Cranks: We can work with stock, OEM, cranks when the rules specify or we can supply aftermarket cranks with custom journal sizes or strokes. We can supply equalized & indexed stock cranks when needed.
Connecting rods: We can blueprint, bush, straighten, align and equalize the lengths on stock rods or supply aftermarket rods in many different lengths or configurations.
Pistons: From hypereutectic budget build-ups to custom, light-weight forged pistons with stock or small pin sizes… we can do it.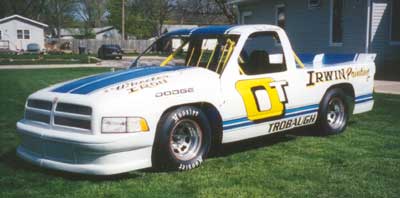 Rings: Here is an area many builders overlook for power increases. We have many selections including lightweight and low tension.
Bearings: Another area that is overlooked for power improvements. Bearings, like rings, don't give big power boosts but if you are dealing with a highly restricted engine of only 350Hp or so, rings and bearings can make a big difference. We have custom narrow bearings available.
Due to sanctioning body or local track rules, the engine combination will differ greatly from one track or application to the next so they become custom engines. So get your rules in one hand and a pencil and paper in the other and give us a call!