---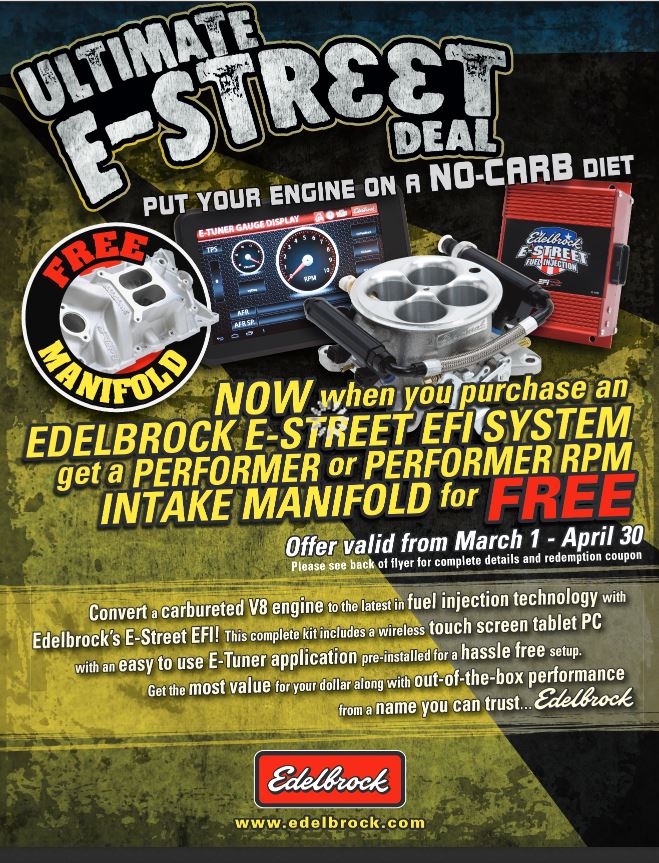 FREE INTAKE MANIFOLD WHEN YOU BUY A E-STREET EFI SYSTEM

FREE PERFORMER OR PERFORMER RPM INTAKE
NOW when you purchase an Edelbrock E-Street EFI System, get a Performer or Performer RPM Intake Manifold for FREE.
Convert a carbureted V8 engine to the latest in fuel injection technology with Edelbrock's E-Street EFI! This complete kit includes a wireless touch screen tablet PC with an easy to use E-Tuner application pre-installed for a hassle free setup. Get the most value for your dollar along with out-of-the-box performance from a name you can trust... EDELBROCK!
In order to qualify and receive a free Edelbrock Performer or Performer RPM intake manifold*, you must purchase a new Edelbrock E-Street EFI System (Part: #3600, #3606, #3602) between March 1, 2014 to April 30, 2014, complete the redemption form as directed, and mail it in by May 30, 2014
Click Here for more info & the rebate form
FREE AIR CLEANER & FENDER COVER WHEN YOU BUY A CARB

FREE AIR CLEANER AND FENDER COVER
Buy any NEW Edelbrock Carburetor (Performer EPS or Thunder Series AVS) March 1 - April 30, 2014 and Edelbrock will send your choice of a FREE Air Cleaner & Fender Cover - up to a $89.95 value! Choose chrome, black or dual-quad air cleaner.
Edelbrock Performer and Thunder Series Carburetors deliver outstanding street performance. For a limited time Edelbrock is giving a FREE air cleaner and fender cover with the purchase of a new Edelbrock Performer or Thunder Series carburetor. Reconditioned carburetors are excluded and not eligible for a free air cleaner or fender cover. Dual-quad air-cleaner #1235 requires the purchase of (2) carburetors on the same sales receipt or a manifold and carburetor kit, and crate engine.