COM 828-16
SB SOLID ROLLER LIFTER SET
Standard rocker arm oiling (through the block and heads)
Mechanical type roller tappets for racing camshafts. Vertical link bar design. These are solid wall type and do not require "tubing" of the oil galley or sleeving of the lifter bores.
When using #828-16 and #843-16 lifters, you will need to relieve the valley area of the block to obtain link bar clearance.
These are Comp Cam Brand #828-16

From the roller tip to a 3/16" ball in the seat measurement is 2.300" (According to COMP)
Before purchasing the lifters, be sure to check the lifter bores in your block.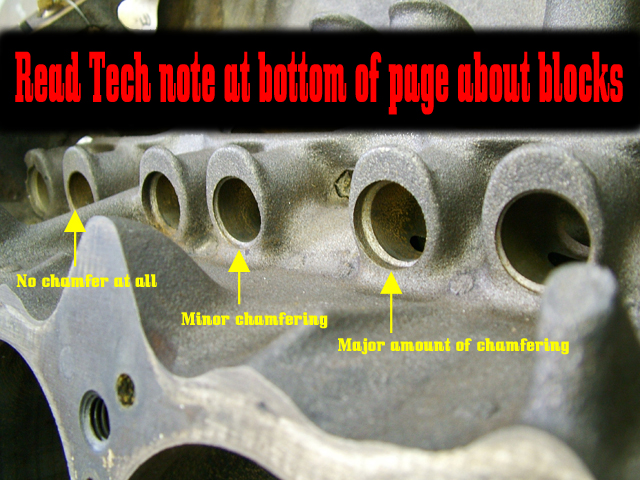 The photo above shows an unmolested 340 small block. As pointed out by the arrows, some of the lifter bores are chamfered, or counter-bored. We do not know why Mother Mopar chose to do this. As you can see they are randomly bored to differing depths. The problem with this is that when you want to retrofit your block to a hydraulic roller cam the lifters that you need to use may come up high enough that the oil groove around the outer perimeter of lifter becomes exposed into this chamfer. This is not acceptable. If your block has these chamfers, either find another block or give us a call.