HUG 20300A
MAGNUM INDY "X" HEADS W/ 1.92"
MAGNUM STYLE INTAKE PATTERN W/ 1.92" INT, 1.620" EXH & 1110 SPRING
This is a pair of INDY MA-X heads with stock size (1.92 / 1.620) valves. These are fully assembled . Designed to use stock Magnum style rocker arms. Requires use of "Magnum" style intake manifold.

What's Included:
A pair of new, small block cast iron INDY "MA-X heads (62cc chambers)
One piece stainless valves- 1.920" intake and 1.620" exhaust with 5/16" stems
Heat treated, machined steel retainers (HUG 1278)
Hughes springs #1110, locks #1307B & seals #3806 assembled on the heads.
(Optional spring upgrades available. Call for details)
What's NOT included:
(all available at an extra charge. Call for details)

Milling the heads
Spring upgrades
Porting work
Racing valve job

Features:
Pressed in hardened exhaust seats to insure no cracks.
Multi-angle intake valve seats
Modern port design to enhance air flow.
179cc intake and 67cc exhaust runners
Highly efficient water jacket to prevent engine hot spots
Extra thick deck surface to enable angle milling for compression

What you need to know:
Adjustable rocker arms must be used with cams having greater than stock lift. We recommend our premium adjustable rocker arm assemblies along with matching pushrods.
If you need a combination not shown here please call one of our technicians at 309-745-9558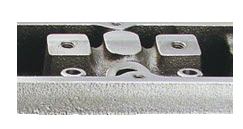 | | | |
| --- | --- | --- |
| Lift | Stock 1.94" | Stock 1.62" |
| .100 | 58 | 59 |
| .200 | 109 | 103 |
| .300 | 168 | 145 |
| .350 | 192 | 157 |
| .400 | 212 | 165 |
| .450 | 228 | 172 |
| .500 | 236 | 177 |
| .550 | 238 | 180 |
| .600 | 238 | 181 |
SERVICE PARTS FOR 20300A:
VALVE SPRINGS RETAINERS SEALS INT VALVE EX VALVE LOCKS
P/N 1110 1278 3810 PV3954 PV2654 1307B


Related Parts:
HUG 1110VSK-M : Installed Spring Kit

HUG 1129VSK-M : Installed Spring Kit (recommended for Super Charger applications)

HUG 1120VSK-M : Installed Beehive Spring Kit
LAB AUTOHEAD953 : Clearance Pushrod tunnels for flat tappet cams



DUAL DRILL HEAD FOR "LA" INTAKE BOLT PATTERN

ARP 144-3604 : Bolts, Head Set Iron Magnum, ARP Brand Hex Head, Magnum 318 & 360 Eng

7183S Bolts, Head Set Iron Magnum : Stock OEM Style Hex Hd, Mag 318 & 360 Eng

Fel Pro 9898pt .054" X 4.172" Bore : Felpro Standard Gasket

HS9898PT2 Gasket, Head Set Magnum V8 : '98-'03 5.2 & 5.9 Magnums Fel Pro Kit

1550 Rocker Arm Kit Stainless Steel

1555 Shaft Mounted Rocker Arm Kit