HUG 4676SP
MAGNUM EQ IRON RAM HDS CNC SUPER PREPPED
CNC SUPER PREPPED STREET/STRIP HEADS W/ 2.02" VALVES & SPRINGS
Small block CNC Super prepped heads with custom designed CNC combustion chambers that deliver air flow that is very close to fully ported aluminum heads.


This is a PAIR of brand new head castings with new 2.02" one piece stainless intake valves and 1.620" one piece stainless exhaust valves and Hughes CNC Super Prep work. Includes our proprietary racing valve job along with blending of the valves into the chamber which increases flow.This includes our 1129 spring kit installed on the heads.

What's Included:
A pair of new, small block cast iron EQ Magnum heads (62cc chambers)
One piece stainless valves- 2.02" intake and 1.620" exhaust with 5/16" stems (+.100 longer vlave stems for increased valve spring height)
Hughes Engines proprietary racing valve job
Blending of valves into the chamber to increase airflow
Hughes Engines CNC Super Prep combustion chamber work
Small combustion chambers. 64 or 67cc for higher compression without having to switch pistons in LA engines
Bronze valve guides for longer life
1129 spring kit (springs, locks, retainers & seals) good for most Hyd roller and flat tappet solid cams.


What's NOT included: (all available at an extra charge. Call for details)
Milling the heads
Pushrod Tunnel clearancing (available at an extra charge)
Features:
Pressed in hardened exhaust seats to insure no cracks.
Multi-angle intake valve seats
Modern port design to enhance air flow.
179cc intake and 67cc exhaust runners
Highly efficient water jacket to prevent engine hot spots
Extra thick deck surface to enable angle milling for compression

What you need to know:
Adjustable rocker arms must be used with cams having greater than stock lift. We recommend our premium adjustable rocker arm assemblies along with matching pushrods.
If you need a combination not shown here please call one of our technicians at 309-745-9558


A pair of our Iron Ram cylinder heads with the Magnum intake bolt pattern. These heads are brand new castings with bronze valve guides. All of our assembled EQ (Iron Ram) heads now have bronze guide liners to prevent the common problem of valves sticking in the guides. BEWARE of purchasing these heads from anywhere that does not install the bronze guides! They have received our CNC Super Prep porting work, and then they are given our proprietary valve job using new one-piece stainless steel valves (2.02" intakes and 1.620" exhaust).
These are replacement heads for your stock Magnum truck heads and will accept all of the stock valvetrain and accessories. Our Iron Ram heads feature pressed-in hardened seats and modern port design to enhance airflow.


There is a great article on these heads in our tech section.

When using these heads with a flat tappet cam it will require that the pushrod tunnels be clearanced. We can do this for an additional charge. If you need this done please add it to your cart below in "Related Parts".
This head can be ordered with dual intake bolt patterns ("LA" & Magnum) by adding HUG 1196 to your order.

To view the flow chart for this head click the button below.




Related Parts:
HUG 1110VSK-M Installed Spring Kit

HUG 1129VSK-M Installed Spring Kit (recommended for Super Charger applications)

HUG 1120VSK-M Installed Beehive Spring Kit

LAB AUTOHEAD953 : Clearance Pushrod tunnels for flat tappet cams



DUAL DRILL HEAD FOR "LA" INTAKE BOLT PATTERN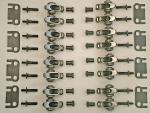 1550 Rocker Arm Kit $335.00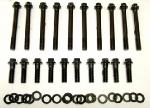 ARP 144-3604 ARP Head Bolt Kit

7183S Stock style head bolt kit