This part number is for a stock out of the box intake. We also offer this intake with our deep port matching or our exclusive full port services. The text below is a description of what each level of porting can provide. To order this intake ported, click on the link at the beginning of each description.


This intake works best with the HEH2832AL, HEH3237AL, HEH3742AL, HEH4246AL, and HEH4650AL hydraulic camshafts. Good solid camshaft choices are the HTL3742AS, HTL4248AS, HTL4652AS, HTL4852AS and HTL5256AS.
Important... A/B Measurements

CHECKING FOR HOOD CLEARANCE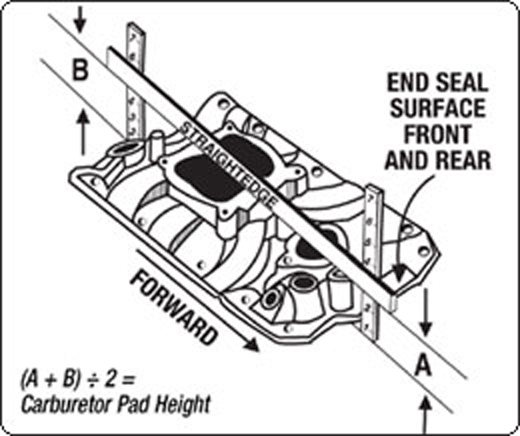 To ensure adequate hood clearance, check the height of your stock manifold and compare the "A" and "B" measurements against those of the Edelbrock manifold prior to purchase. The heights of all Edelbrock manifolds are listed under "Installation Notes" for each model in the intake manifold section of this catalog.
Please Note: To figure carburetor pad height, add dimensions "A" "B" and divide by 2.
This intake Manifold height: A-4.9", B-5.8" see A/B Measurements in above photo. Port exit dimensions: 1.01" x 2.17". 1979 & later rotary A/C compressor will not clear waterneck.
Factory manifolds have an "A" measurement of approximately:
2 barrels---- 3.54"
4 barrels---- 3.96"