EDE 7577
INTAKE, MAGNUM RPM AIR GAP
FOR 92 & LATER DODGE V8 ENGINES. ALLOWS THE USE OF A CARBURETOR

Edelbrock Magnum Dual Plane #7577

This intake is designed to convert a Magnum Fuel Injected engine to a carburetor.

Designed for 1992 and later 5.2L (318ci) and 1993 and later 5.9L (360ci) Chrysler Magnum V8s, the RPM Air-Gap manifold allows the use of a carburetor on these originally fuel-injected engines for use in early muscle cars and street rods. This dual-plane manifold design incorporates the same race-winning Air-Gap technology that's been used on our Victor Series competition intakes for years for outstanding performance in the 1500 to 6500 rpm range. The Air-Gap design features an open air space that separates the runners from the hot engine oil resulting in a cooler, denser charge for more power.
Important... A/B Measurements

CHECKING FOR HOOD CLEARANCE
To ensure adequate hood clearance, check the height of your stock manifold and compare the "A" and "B" measurements against those of the Edelbrock manifold prior to purchase. The heights of all Edelbrock manifolds are listed under "Installation Notes" for each model in the intake manifold section of this catalog.
Please Note: To figure carburetor pad height, add dimensions "A" "B" and divide by 2.
This intake
Manifold height: A-4.75", B-5.8" see A/B Measurements in above photo. Port exit dimensions: 1.08" x 2.10".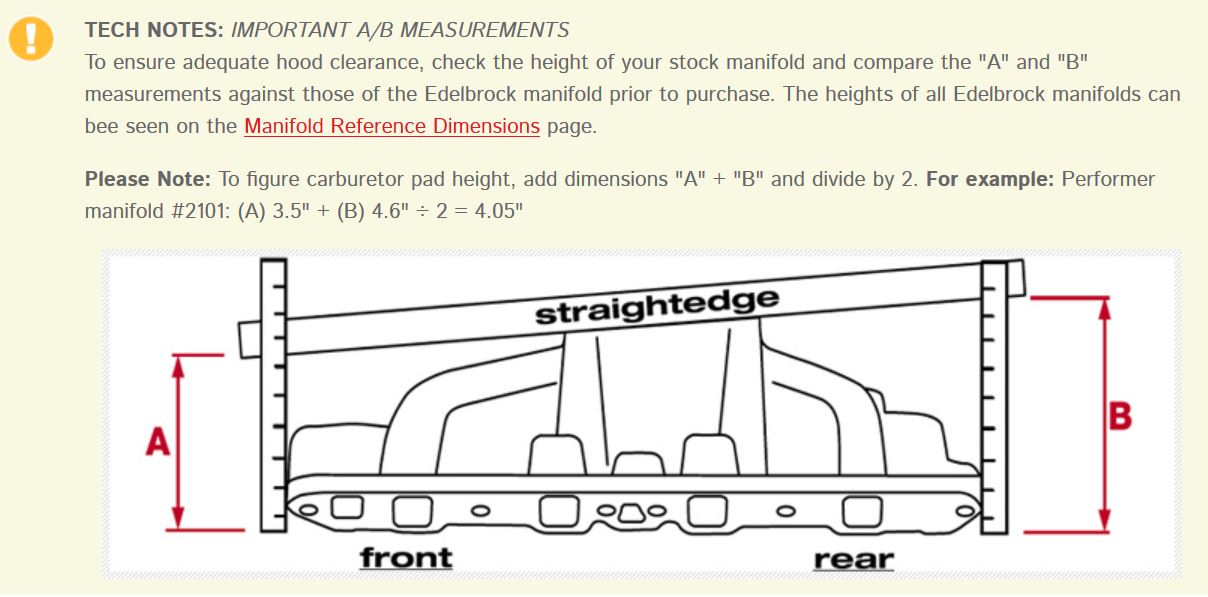 Related Parts:
ARE AR004M THROTTLE BRACKET KIT MAGNUM

ARE AR027 SB THRTL RETURN KIT DUAL SPRINGS