HUG 5409
HUGHES / EDELBROCK FI AIRGAP KIT
THE BEST MAGNUM INTAKE AVAILABLE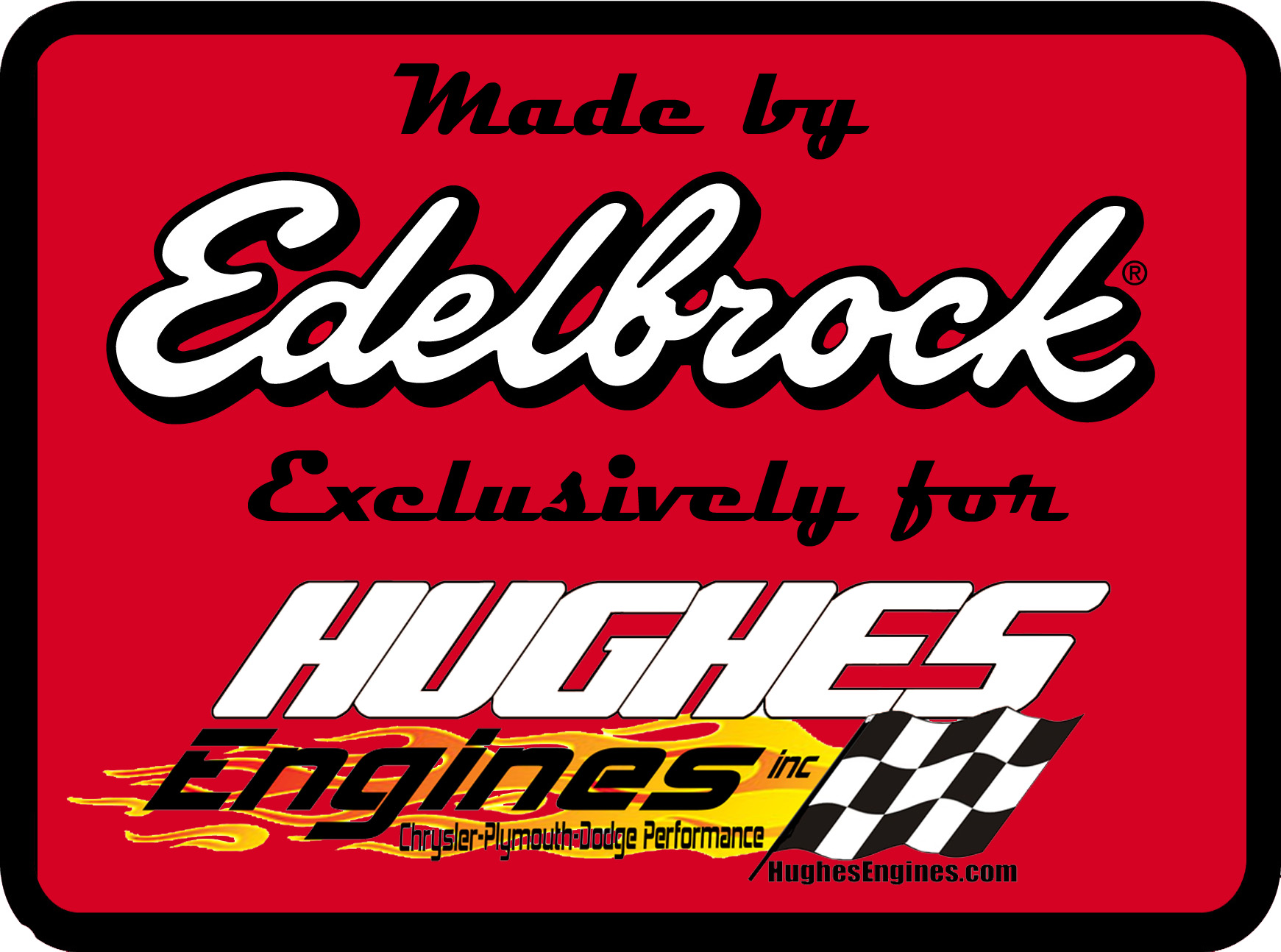 This intake, designed by Hughes Engines and manufactured by Edelbrock, is the best intake available for your 1996-2003 5.2 & 5.9 Dodge Magnum engine. Not only will it increase your horsepower it will also improve your mileage (if you're able to keep your foot out of it!). Now you can maintain all of the low end torque of the stock factory barrel style intake yet get the increased higher RPM horsepower you've been missing.
Check out the huge increases in torque & horsepower when you couple the FI AirGap with a SCT Tuner.
CLICK HERE for independent dyno test results
Direct replacement for all emission controlled OBDII equipped Magnum trucks (Most 1996 and newer 5.2 or 5.9).
May require some modifications for earlier model ,OBD1 equipped vehicles, and would be for Off-road use only.
We get a lot of questions from people in California as to if this intake meets California emission standards.
According to the California Department of Consumer Affairs Smog Check Reference Guide we see no reason that our intake would not be compliant on all OBDII equipped vehicles. Based on the following text from the CARB website, the Hughes Engines FI AirGap intake is exempt from requiring CARB certification.
As quoted from
California Department of Consumer Affairs Smog Check Reference Guide
Appendix G , page G-7.
"For the purposes of Smog Check Inspection, the following parts and emissions control changes are acceptable provided that all of the required emission controls are connected and functioning. When conducting a Smog Check Inspection, it is not necessary to check for a CARB Executive Order for the following:"
"Any intake manifold that includes provisions for the OE emission controls (EGR, TAC, carburetor, thermal switches, choke stove, exhaust cross-over etc.) The manifold must be marketed by the manufacturer for street use on emission controlled vehicles"
---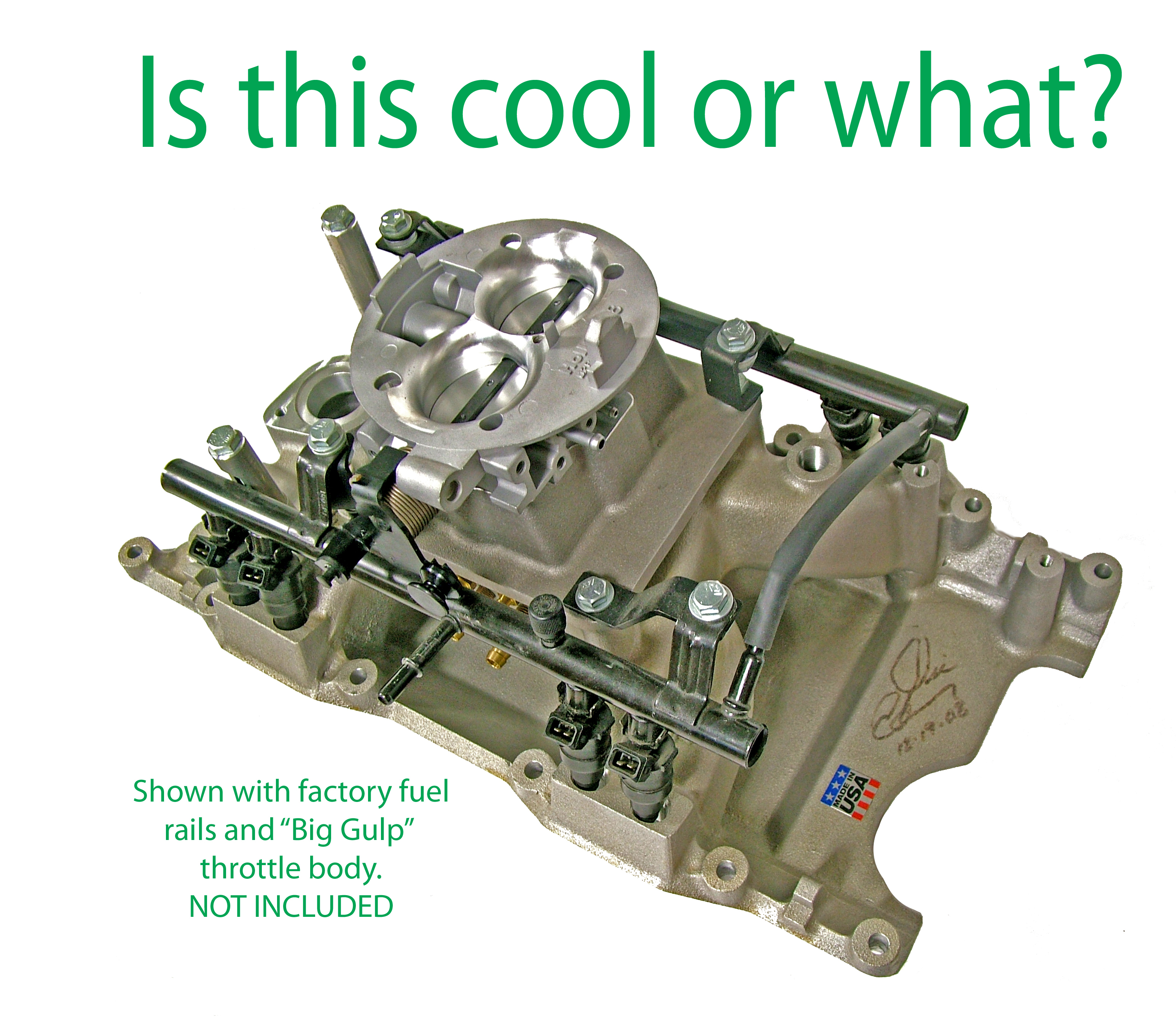 This FI AirGap manifold will reduce the temperature of the intake by 30º, which produces more power and increases fuel mileage too!
---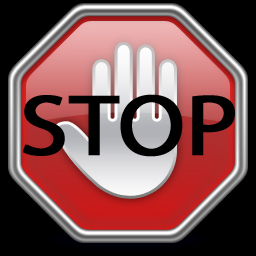 Before you spend any money on any other intake check out these flow figures.
We will start with the factory keg style intake

| | | |
| --- | --- | --- |
| | Average cfm | Scatter |
| Stock O.E.M. | 219 | 213-228 (15 cfm spread) |
| Fully Ported O.E.M. | 248 | 242-254 (10cfm spread) |
---
Next is the Mopar Performance M1, 2bbl

| | | |
| --- | --- | --- |
| | Average cfm | Scatter |
| Stock M/P M1 2 bbl | 256 | 245-266 (21 cfm spread) |
| Modified M/P M1 2 bbl | 276 | 270-285 15cfm spread) |
---
And, the best for last, The Hughes FI AirGap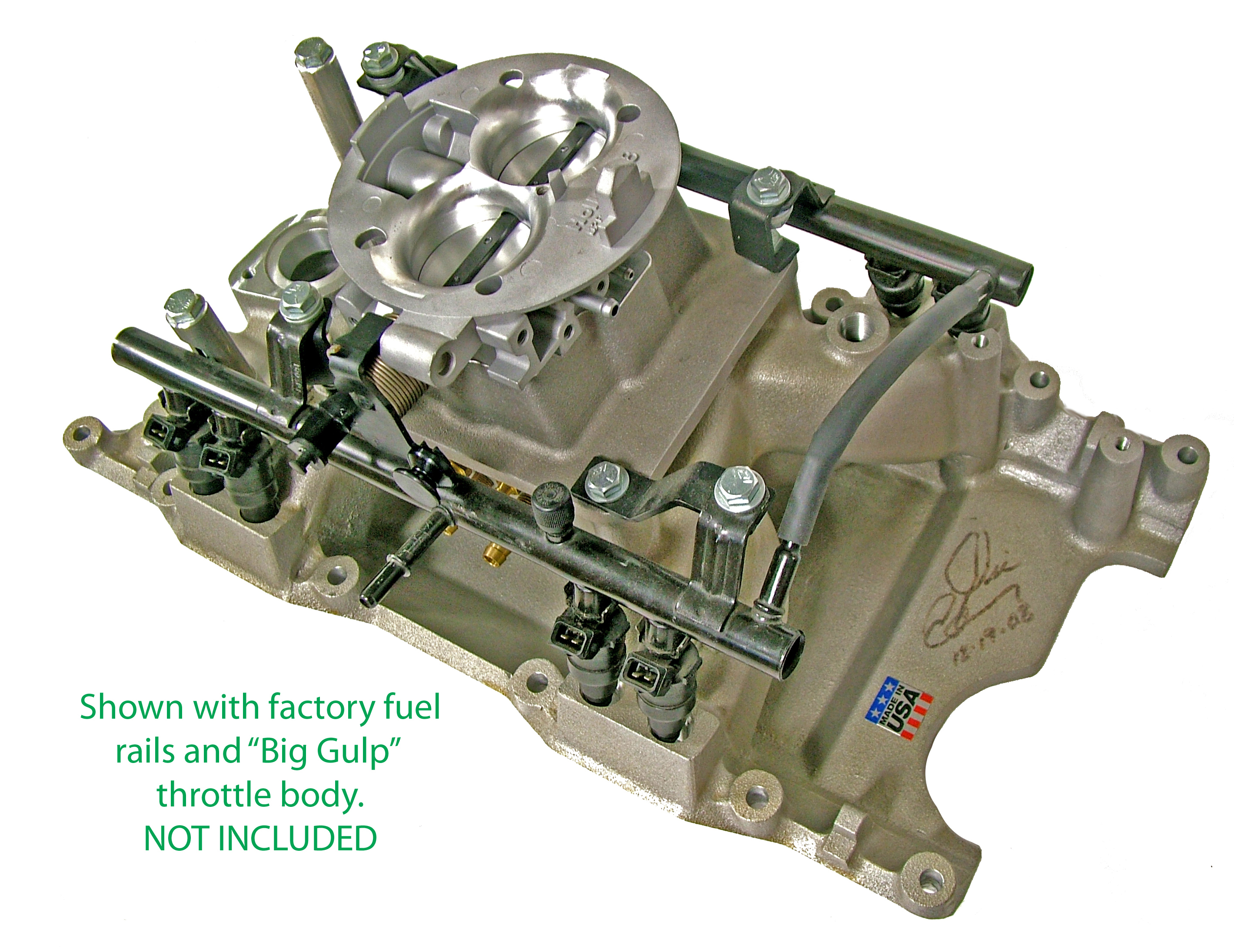 | | | |
| --- | --- | --- |
| | Average cfm | Scatter |
| Stock Fi AirGap | 263 | 253-268 (15cfm spread) |
| Fully Ported FI AirGap | 298 | 281-312 (31cfm spread) |
This intake is designed to be a stock replacement yet gives you the ability to take advantage of upgrades such as stroker kits, SCT Tuners, cams etc....
This part number includes all of the brackets and mounting hardware you will need to install this in your truck. It also comes with intake gaskets and bolts. The intake installs at the same height as your factory intake and all of the accessories will bolt directly up.
Testimonials:
NOTE FROM DAVE: What's up with everyone bragging on the mileage. I designed this intake to make more power! Mileage was just a collateral convenience. ( A pretty good one at that!) Thanks for all of the great e-mails but lets hear from some of the guys making more power! Dave Hughes

Great video testimony of installation in a Jeep Grand Cherokee.

#1 Testimony from Ben McGillivray 06/2013: Quick mileage update: averaging 16.5 in town and about 18.5 mpg @ 65 mph highway. Hybrid numbers? Not so much. Considering the in town numbers rarely broke high single digits before and with a massive plenum leak, it's a world of difference with the new Hughes intake. Taking into account the nearly 50% savings in gas, previously spending appx. $140 weekly on 2 fillups, the fuel savings will pay for the intake by the first week of October. Sweet! I should also ad this was installed in conjunction with the "Big Gulp" throttle body. The throttle response from the combo is amazing as well!

#2 I just wanted to say how very pleased I am with the Hughes FI Airgap. I spent a few months checking around comparing specs, testimonies, prices, etc....everything I could find on the available options for Magnum owners before settling on the Hughes FI Airgap.

Priority #1: I wanted to stay with Multiport Fuel Injection....why step backwards with the technology? Throw a carb on it and call it a day? Bah. That narrowed the intakes down to 3 that mattered....4 if you count modding a stock kegger.

Priority #2: I can't give up a freakish amount of low end torque while building power in the mids/upper mids to redline.

Priority #3: I need room to be able to expand on my current setup, so the intake needs to be able to adapt to future upgrades. Going from a 2 bbl TB to a 4 bbl TB by just removing the supplied adaptor? You bet.

The Hughes FI Airgap wins everywhere for me. Everything is is included. Everything. No adding up a "installation kit" to the price, no adding "gasket kits" to the price, no hidden costs.

The install went smooth as could be. The instructions were very helpful too. The computer learned its strategies nicely, and everything plays nice together. The extra power throughout the rpm range is definitely felt and appreciated. This will absolutely compliment the cam and tune I have in the works, and I have to say Thank You!!! for making that possible! Kim Pardeeville,WI



#3 Hughes Engines, I recently installed your FI Intake manifold on my 1998 1500 RAM truck. The manifold has made a noticeable change in the way the truck runs at all speeds, especially on the highway.Previously it was somewhat sluggish to accelerate at highway speed, not anymore I have to be careful for it will run up to 90+ MPH very quickly and likes to" cruise" around 80 MPH.Even with 105,000+ miles I am getting the same mileage as new trucks and mine does not have to downshift to go up a hill. Good product! Terry Riffle
#4 I installed the FI AIrGap system on my 5.9 Liter Durango and WOW! What a huge difference!It took a little while for the computer to relearn, but I could immediately notice an improvement from idle. I really noticed a big difference from 2200 - 4000rpm.Just from the new location of the injector bosses, I have noticed a gas improvement. I have a telemetry reader that calculates gas mileage consumption and eta and I can accurately say that the gas consumption went from 11.4 mpg to 18.4 mpg, a definite improvement. Now I want to change the throttle body. Is 55 mm the biggest I dare to put on or do you have a larger unit? Thanks! AShif VanCouver, BC
#5 2 years ago I bought one of your Magnum FI AirGap intakes. This is the one that has the injector bungs welded in. It has been running flawlessly for 30,000 miles, so far. It is in a 1972 Dodge Polara, now called the Polaraco, with a 5.2 Magnum and the 518 O/D transmission. It is using the complete factory computer and harness and works like a charm. I have been getting 25mpg at 70mph! I have been running this without an EGR and it runs great! No pinging and plenty of low end torque. The purpose of this build was to create a really nice daily driver, unique to the rest of the world's ideas. And, it is one of a kind! Thanks, Steve Hobby N.J, (Known globally as Polarco)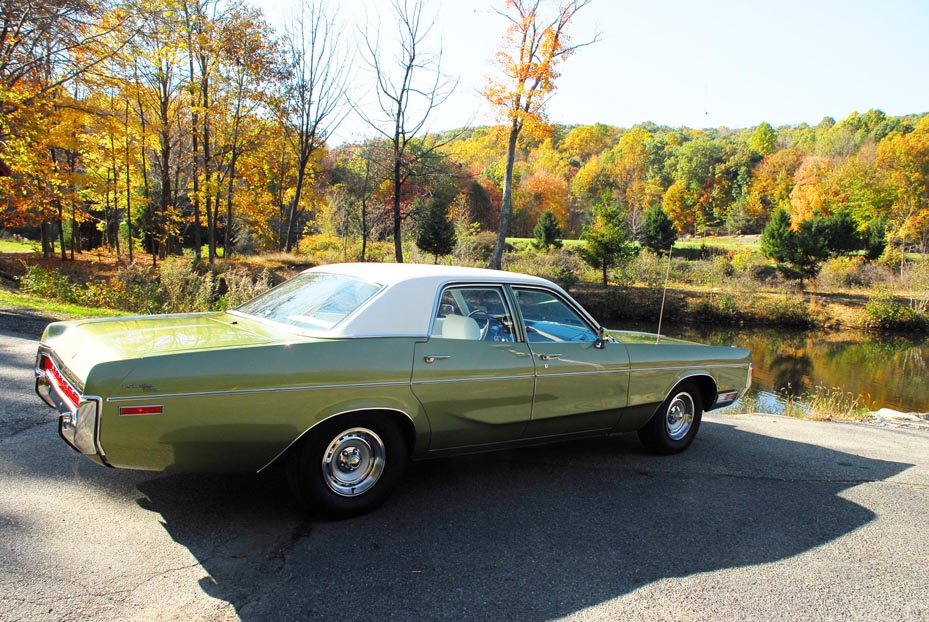 #6 Okay, I installed the Hughes Airgap Intake this weekend and overall it was a very easy install, however it is not for the beginner. I made sure to label everything and put all blots into bags and label the bags as well. This was a very important step and made install a breeze. As for the Directions they where very straight forward and easy to read. I do wish that something was said about the extra holes I had because my truck did not need them. A couple of brass plugs from the local parts store fixed it right up. However I e-mailed Hughes over the weekend about this and they actually responded, I was not expecting that. It is nice to see a company that is not afraid to take care of it's customers even after hours. The only other thing that was different on my application was I did not need the gaskets that where sent for the front or rear of the intake. It made the intake sit to high, so I removed them and applied a generous amount of Blue Silicone and everything was fine. Once I got everything back together I fired up the truck and it ran great. I took it out for a test run and WOW! What a difference. the truck was such a slouch from 2500 rpm's and up, not anymore. It feels like there is more power there now then on the lower end, it is great. It also sounds great it has a nice deep tone to it and really makes the whole truck sound great. Overall I would definitely recommend this application to anyone looking for get up and go power. Makes getting on the interstate a lot easier. Thanks Hughes for putting together a great package and making it so easy to put together. Phillip S. Davis Jr
#7: OH MY GOSH!!! How about Holy $#!T!!! My 2000 Dodge Ram 318 is a new truck!!! It is a 4x4 so I could care less if I get better milage, but I love to drive it NOW! I put Eddy headers, a JETT Chip in it, MSD 6A, MSD Wires, Dual Exhaust with flow masters, ETC., and they made very little difference compared to the air gap and a ported stock throttle body! It now has power above 2800 RPM!!! It now sounds like a 4BBL muscle car when I get on it!!! WOW! Mopar needs to have you guys consult when they build a motor...I cannot wait until I get the $$$ to buy some Prepped Eddy heads for my little 318!!! Thank you, Matthew Jensen Tucson, AZ